About HIV self-testing
HIV self-testing is a safe, accurate and effective way to screen yourself for HIV in the comfort of your home or any location you like. Since 2016, the World Health Organization has recommended that HIV self-testing be offered as a complementary approach to existing HIV testing services. HIV self-testing kits include easy-to-follow instructions and can be completed in a location of your choosing, either alone or with a trusted individual. HIV self-testing is only a screening test. If the results are Positive (Reactive), you will need to get a confirmatory test from a facility.
Have questions?
See below for some answers.
Get in touch with us if you have further questions or concerns.
Do I need a prescription?
No
How private
is it?
Your details are kept 100% confidential. The kit arrives at your address or pickup point in unlabeled packaging.
How safe
is it?
100% safe. It involves taking a sample of your oral fluids by brushing under your lips.
Is it
accurate?
It should say its >99% accurate. However this is screening test only. You should get a confirmatory test from a facility if screening result is positive
What if
I'm positive?
With today's advances in HIV treatment, a person living with HIV can live a long and healthy life. We can connect you to doctors and counsellors to support your health and wellbeing.
Will people ask me questions?
No, but we can answer your questions and provide any support you need.
Is it difficult
to do?
No, it takes less than 5 minutes. Watch this video. Our expert can also guide you on the phone.
How long do the
results take?
20-40 mins.
I'm afraid about
the result.
The earlier you find out, the easier it is to protect yourself and your partners.
Who can take the
HIV self test?
Take the HIV self test if you are risk of HIV and if you would like to know your HIV status. Please do not take the test if you are positive and taking ART medicines.
How does the test work?
Step 1
Swab your gums to collect an oral fluid sample with the provided brush
Step 2
Put the brush inside the provided test tube
Step 3
Wait for your result in
20 - 40 mins
Podcast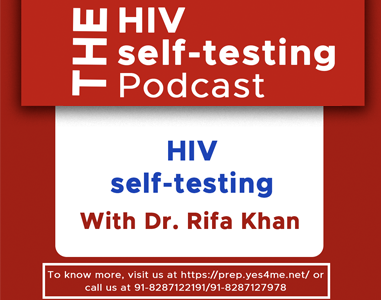 Dr Rifa on HIV self-testing
Professional Support
Today, a person who tested HIV positive/ positive for HIV can live a long and healthy life if initiated on ART and continues life-long treatment
ADDRESS
C-11 (Upper Ground Floor), Green Park Extension,
New Delhi - 110016
Your information is 100% safe with us.
We will never contact you or send messages for any other purpose.